Filters
Showing Products 1 - 7 of 7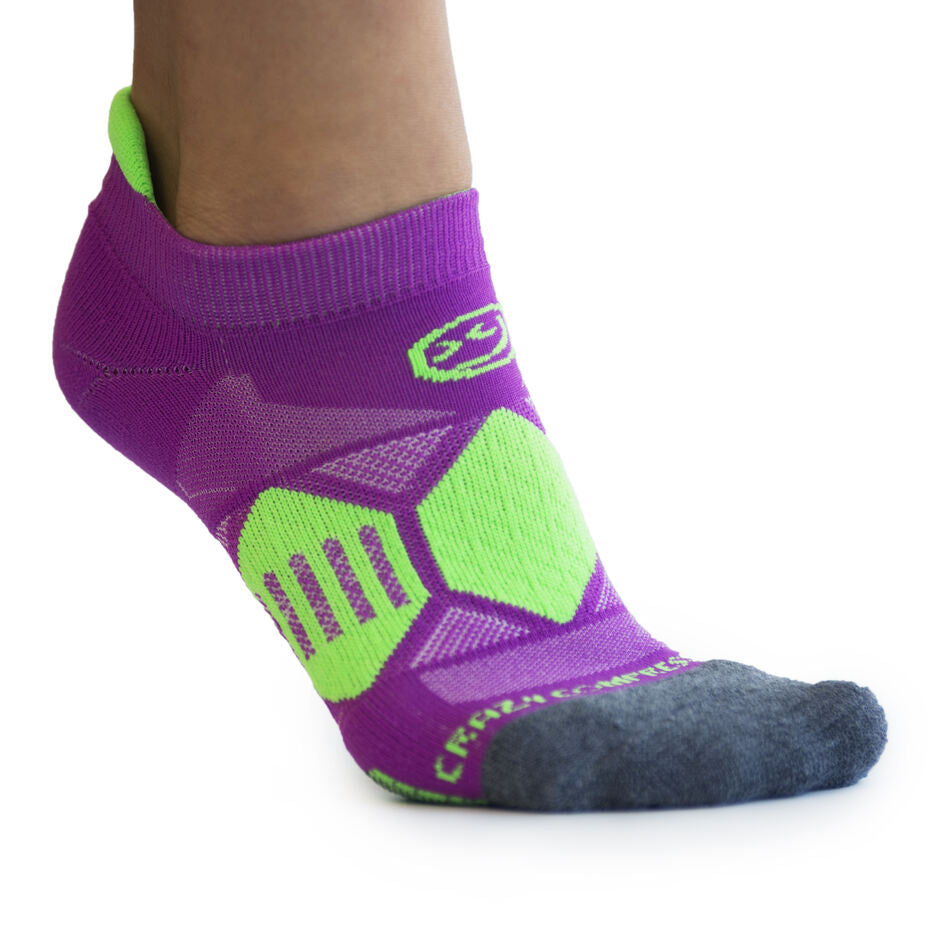 Elite Runners
As a runner, you know how essential it is to have the proper footwear. Whether you run for fun, for health, or training for an upcoming marathon, the right footwear provides you the crucial foundation for protecting your feet, which in turn protects your entire body. Preventing foot fatigue and potential injuries not only makes running more enjoyable, but the right gear protects your feet and complements your running style!
Part of that crucial footwear can often get overlooked, and those are your runners socks. Our specially designed fun running socks are created especially for the unique challenges runners face in their favorite activity. Not only do these runners' socks combat the seemingly endless supply of flat, boring-looking socks that lack personality, but they provide extra cushioning and support where you need it most.
Created with exceptionally durable, rugged materials with cushioning at the most significant impact points: heel and toe, we offer a wide variety of stunningly gorgeous and vibrant runners' socks for every personality. Included in our fun running socks is the ultra-comfortable seamless toe to help reduce the typical irritation and soreness an improperly placed seam causes.
Along with added support, our runners socks are created with today's most breathable, moisture-wicking fabrics found on the market today, keeping feet dry and cool when you need it most. When it comes to owning a pair of Crazy Compression socks, the dedication and meticulous attention to higher-quality footwear will become immediately evident the moment you put them on. We stand by our commitment to quality and offer a lifetime guarantee with every pair you'll love to wear.
Curious to know more about our fun running socks collection? Have questions for us? We'd love to hear from you! Please email us at crazyclan@crazycompression.com or call us at 1-828-514-0961. We're a small family-owned business that makes our products right here in the USA, so please be aware it may take a little time to get back to you.
Don't forget to follow us on social media to see how we're putting back the Fun in functional socks, and subscribe to our newsletter to exclusive offers, giveaways, and one-of-a-kind deals!
Frequently Asked Questions
Q:
When should runners wear compression socks?
A: Runners should wear compression socks during their runs if the runs they do are particularly long or difficult. Compression socks should also be worn after a run to aid in the recovery process. If your run is going to be relatively short or easy, we suggest only wearing the socks afterward.
Q:
Should you wear compression socks while running?
A: Compression socks are great for running since they help promote healthy blood circulation from your legs to your heart. A lot of runners also wear them because compression socks help their muscles feel less sore and recover more quickly after an intense run. The only people who shouldn't wear compression socks while running are people with certain medical conditions, especially those that affect your arteries.
Q:
Why do marathon runners wear compression socks?
A: Compression socks are great for long, strenuous runs because they keep the blood flowing between your legs and your heart, which reduces swelling, achiness, and debilitating leg cramps. People who are in the middle of a marathon, which is a race that spans 26 miles, will find it a lot more difficult to finish their race if their legs are on fire. The protection of their legs is one of the main reasons marathon runners wear compression socks, not to mention the incredible boost in recovery afterward.
Q:
What are the best compression socks for runners?
A: Just like you shouldn't wear just any shoes to run in, you also shouldn't wear just any socks. The best compression socks for runners are going to be socks that not only offer a gentle squeezing in their ankles and/or calves, but that also offer cushioning on the right parts of their feet. Our Elite Runners Socks, for example, provide cushioning in the heel and toe, which is part of what sets them apart from our other compression socks.