Filters
Showing Products 1 - 50 of 144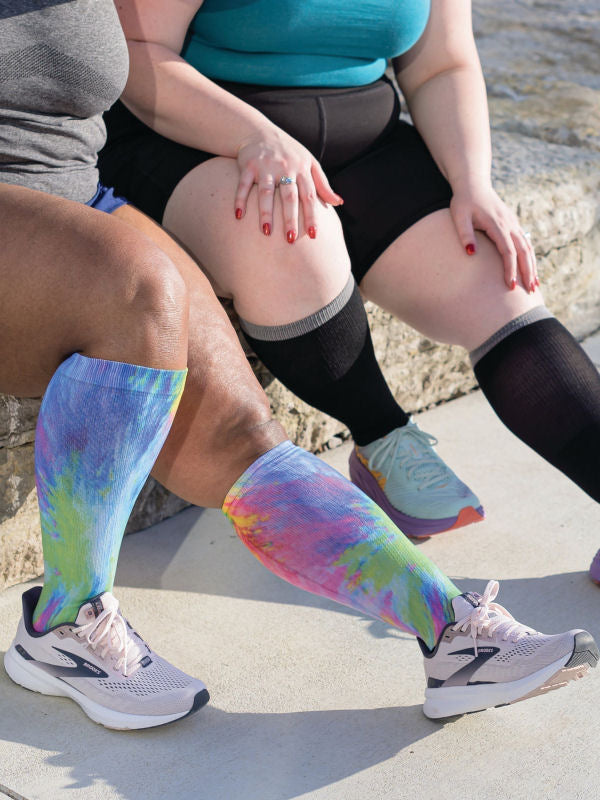 Wide Compression Socks
Every person's body type is unique, which means that not everyone is going to benefit from our standard compression socks. We know that there are bodybuilders and curvy people alike with calves that are larger than the average person's, which is why we've created our line of wide calf compression socks. The benefits that compression socks provide should be available to everybody, and we're working very hard to make sure our brand is inclusive!
Our compression socks for extra wide calves have a 19" diameter to accommodate legs with calves that measure 16" and over. The wide calf compression socks have the same great benefits as our regular compression socks do, including stay cool technology, a seamless toe, and a mind-boggling lifetime guarantee. These Made in the USA compression socks for extra wide calves are built from premium materials for premium performance, which is why we're confident that they'll last for years and years.
You might think that because these compression socks are specially made, they don't come in all the same fun patterns as our standard socks. That's where you'd be wrong! You can set your inner mermaid free with a pair of Mermaid Teal socks or even show off your holiday spirit with a pair of our Santa Needlepoint socks. All of our most popular patterns and colors are now available for a variety of body types, so you can showcase your personality on your next long flight or shift at the hospital.
If you've never tried compression socks before, you may not be familiar with all the great benefits they offer. The main one is improved blood circulation, which can reduce swelling in your feet, ankles, and legs, as well as prevent muscle soreness after a particularly tough workout. Make sure you talk to your doctor before trying a pair of compression socks for yourself, as people with certain medical conditions shouldn't wear them.
Put the fun back in functional with a pair of our wide calf compression socks today, and make sure you subscribe to our email alerts to get all the best deals, special offers, and free giveaways!